Welcome to komega's Emporium for (not so) Olde Timey Electronic Musical Instruments and Exquisite Whimsical Creations of Light and Sound
Ye Olde Timey Synthesizer Workbench:
This is where my creations come to life in their final forms.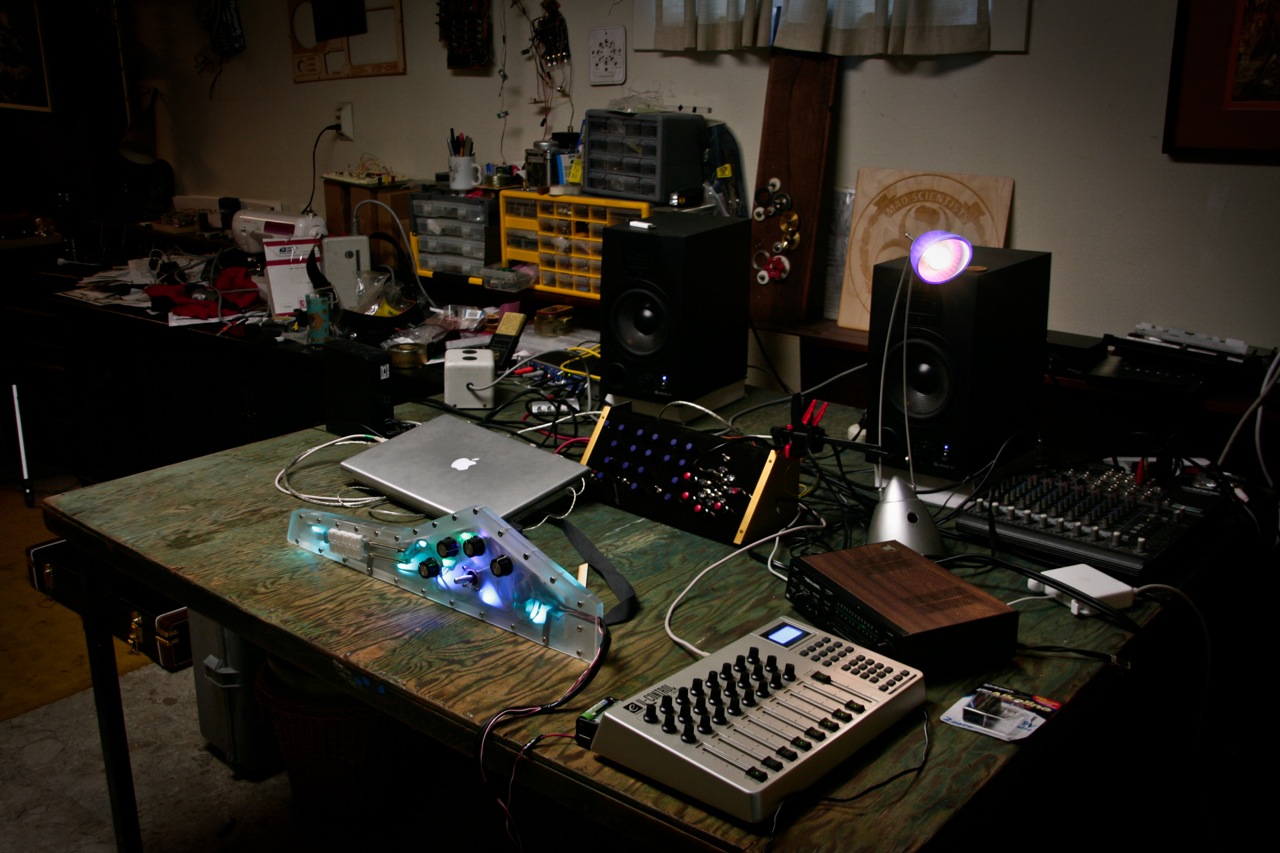 The Shoppe is open for business and I am now taking orders for Kromatrons and custom instruments. Send me an email if you are interested in having a one-of-a-kind creation to call your own.
komega (art) no-thing (dort) net
The Komegatone (Details):
The Komegatone is a MIDI controlled analog Synthesizer built into a suitcase with a nice patina of age.
http://komegatone.blogspot.com/

The Breadman (Details):
The Breadman is an almost complete MIDI controlled analog synthesizer with a unique feature involving a new optical method of control (can't tell you all how it works yet)
The Corina Larks, Extra Mild, Luxatronic Humidaphone:
The Luxatronic Humidaphone is a secret technology home built acidbox inside an antique cigar box. This thing makes some amazingly squelchy noises and, like the Breadman, also contains a proprietary optical system.
The Kromatron (Details):
This CNC machined, clear acrylic MIDI controller is kind of beyond description. It's dynamic in the sense that it can change what it does while it is doing it.
http://kromatron.blogspot.com
The Kromatron at the CDM futuristic design challenge:
The 1000 Year Egg:
Watch the video for this device. I certainly cannot explain it in textual terms.
Various Whimsical Laser Cut Light Creations:
Wood, Acrylic, LED's and Lasers!
Craig Dorety (Proprietor)